The spooky season is upon us and with Halloween right around the corner, what's a better way to celebrate than by treating yourself to some delicious Halloween treats. Halloween originated from an ancient Celtic festival when people would light bonfires and wear costumes to fend off spirits. Back when Halloween was considered as All Hallows Eve; the day marked the end of summer along with the end of the harvest. The Celts believed that on this day, the divide between the world of the dead and the world of the living was emaciated allowing ghosts to return. The people would offer sacrifices to deities, light fires, and wore animal skins for protection during the upcoming winter season. Nowadays, people dress up in fun costumes, enjoy the many festivities, and children will go out to trick or treat for candy.
Halloween Celebrations
Trick or treating has been the pinnacle way of celebrating Halloween for kids, and who can blame them? They get to stay out late and come home with large bags of free candy!  But what's in it for the adults? Well, adults who aren't out trick or treating with their kids usually attend parties, host parties, or stay home to hand out candies themselves. All of that is hard work regardless, but what about treating yourself to something sweet?
Halloween Treats For You
At Chocolate Tales, we offer numerous delectable treats that are just perfect for Halloween. Let's discuss some of the best crafted Halloween treats that they have to offer.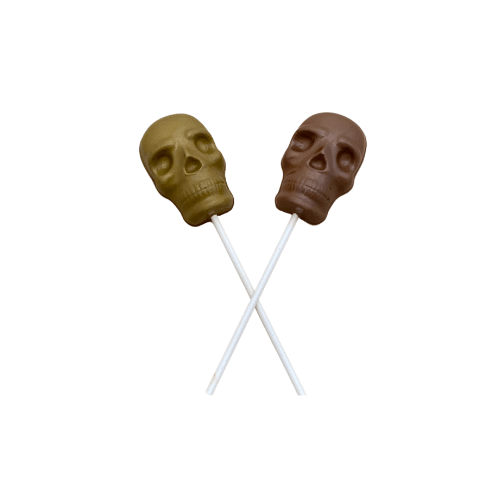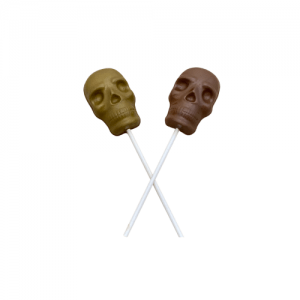 Chocolate Skull Lollipops
These milk chocolate Skull Lollipops are great for Halloween. Eat them just the way they are or use them as cake toppers or decorations for your next Halloween party. Get two skulls in gold and bronze colours, each containing nut-free hemp seeds. Vegan options are available. This product is nut-free, gluten-free, sesame-free, Kosher and egg-free.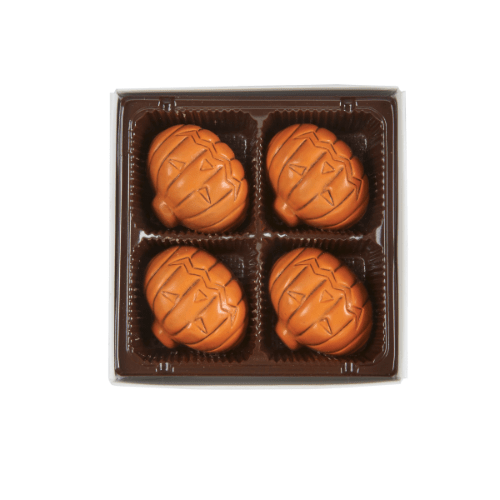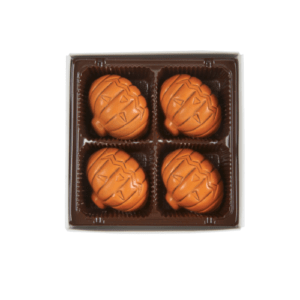 Jack O'Latern Pumpkin Spice Truffles
Everyone's favourite flavour of the season — pumpkin spice! These Jack o'lantern Pumpkin Spice Truffles contain a rich and smooth ganache center. Forget the mess of carving your own pumpkin, these truffles would also make great cake toppers and edible decor. Nothing says Happy Halloween quite like 4 exquisite chocolate Jack o'lanterns.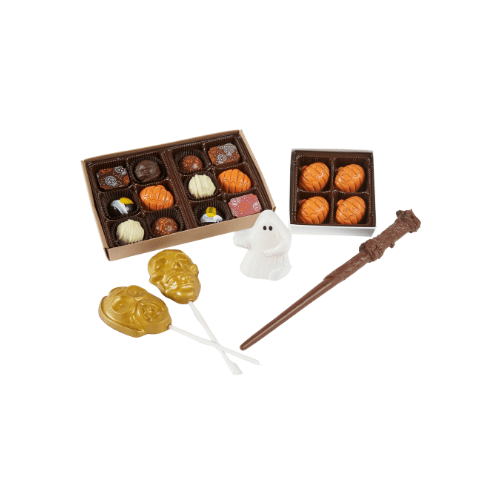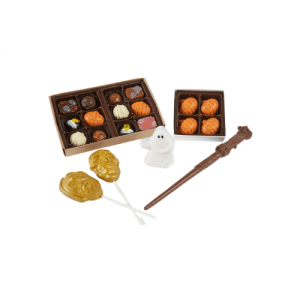 Halloween Bundle
Do you have a Halloween soirée to attend? Perhaps, you could get your host this Halloween Bundle as a gift. Or get this bundle for yourself, we'll keep your secret. This exclusive bundle comes with 12 pieces of Spooky Truffles, 4 pieces of Jack o'lantern Pumpkin Spice Truffles, 2 Spine-Chilling Chocolate Lollipops, a 3D Solid Affable Ghost, a Harry Potter Chocolate Wand and last but not least, a Happy Halloween Card to tie it all together. This is definitely the bundle to die for.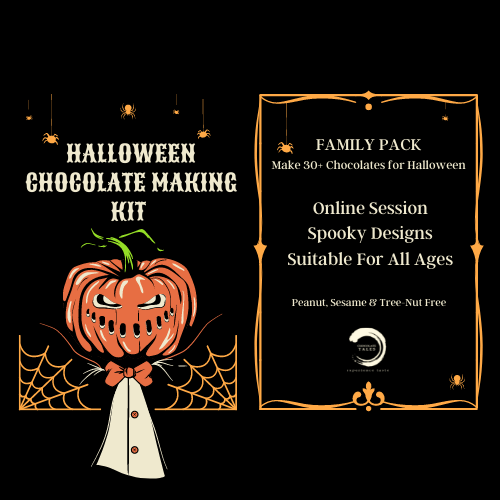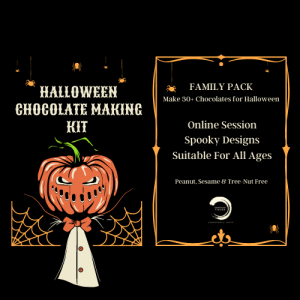 Halloween Chocolate Making Kit
If you and your family plan on staying in tonight, this family pack Halloween Chocolate Making Kit is the perfect choice for you. This would also make a great gift for virtual Halloween parties as well. Create your very own spooky Halloween treats out of the comfort of your home. Each kit contains detailed recorded instructions on how to flawlessly create your chocolate lollipops and truffles from scratch. It also includes edible Halloween designs and any other necessary tools for your customizable creations. It's recommended for all age groups and all skill levels. These kits are peanut-free, tree nut-free, sesame-free, gluten-free, egg-free and Kosher.
We hope everyone has a safe and happy Halloween this year! If these four options aren't exactly what you're looking for then, visit Chocolate Tales today. Find other amazing creations from our Halloween Collection such as more Harry Potter-themed chocolates, and other Halloween delights. If you don't celebrate Halloween, no worries! Browse through our Fall Collection for other wonderful confectionaries. We strive to create desserts that everyone can enjoy, that's why we choose quality ingredients that won't trigger allergies or get in the way of certain diets. Enjoy your Halloween treats!