Our Mobile Company Serves the GTA of Ontario and Beyond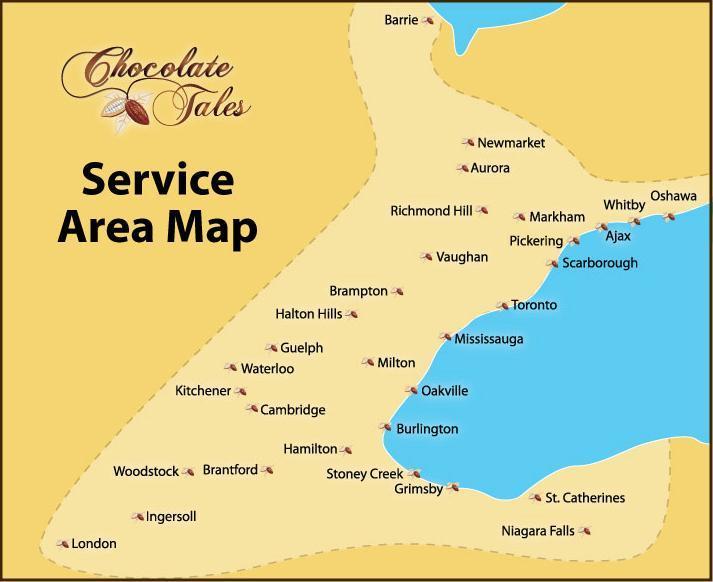 A.
Not with us- we have developed drop sheets tricks and other strategies to guarantee a mess free experience!
A.
Yes. Please review our allergy awareness tab that is on this website. Ask about egg-free, gluten-free and vegan options as well!
A.
The sooner the better! Two to three weeks' notice or more is ideal.
A.
Depending on the program; we will arrive 45 – 120 minutes early to take care of the set-up.
A.
We can accommodate small and large groups, (from 10-5000)
A.
Please review our service area map
OPEN WORKSHOPS
A.
We typically post at the end of the month. Usually, at a given time we have about 2-3 months of workshops on the schedule.
A.
You can check on your voucher for detailed instructions. OR you can follow these instructions:
Log onto https://fareharbor.com/embeds/book/chocolatetales/?full-items=yes and select "General Calendar"
Select your workshop date of choice
Email us your voucher code/s as well as selected date/time and location of choice:

[email protected]

Once confirmed, you will receive an email with a request to complete payment of $7 applicable tax & fees per voucher. Enter your credit card details and submit payment.
Once payment is received we will email you a confirmation of your booking.
A.
Workshop times and Workshop dates vary. We typically offer workshops at 2 locations at any given time- in Toronto and Hamilton. Workshop times during the weekdays are typically in the evening. Workshop times on weekends are typically in the morning and afternoon. You can view our workshop calendar on the following link; https://fareharbor.com/embeds/book/chocolatetales/?full-items=yes
A.
Our workshops are suitable for those aged 4 -99! Each venue may have a suggested age recommendation, however, these are only guidelines based on the demographic that tends to attend.
A.
Our chocolate is completely alcohol free and we do not use any alcohol in our products.
A.
We use dairy products at our events and workshops. No other animal products are used including our vegan marshmallows. We can accommodatevegans, however, not those with dangerous dairy allergies. Notice of special dietary requirements must be made in advance.
A.
Our chocolate is gluten-free. Our events and workshops are gluten-free as well.
A.
We charge $19 to extend a voucher/ticket
CHOCOLATE RELATED
A.
Most of us have heard about the Fair Trade Certified™ seal but the Rainforest Alliance Certified™ seal may not ring a bell. Both are international organizations committed to improving agricultural practices, protecting forestry and improving the lives of farmers in the developing world.
Chocolate Tales is proud to offer Rainforest Certified™ chocolates in our Costa Rican varieties!
A.
A process that makes sure (using fluctuating Temperature) the chocolate is shiny and has a cracking noise when broken. Warm chocolate to 45c then to 27c (now all the crystals appear) and back up to 32c (all the unstable crystals disappear); make sure to mix vigorously all the time to make sure the crystals collide encouraging more crystals to appear.
A.
Creating a shell (caramilk secret) and using white chocolate ganache and peanut butter as the centre.
A.
A Coverture – high content of cocoa butter – used for Creating Fine Chocolates (We use a chocolate from a company called "Belcolade" – this is a Belgian Brand that is nut free).
A.
Yes, research has shown that chocolate with more than 70% cocoa solids has antioxidants (help prevent cancer) and can contribute to healthy Heart, Liver and Vascular system. It's also good for relieving the symptoms of a cough. It is said that it elevates the spirit by releasing serotonin in the brain.
A.
Anywhere and up to 20 degrees away from the Equator line around the world. (Best to stay below 16 degrees away)
A.
We prefer Belgian for chocolate making; the Swiss are more focused on consumer chocolate and less on coverture (chocolate for chocolate making).
A.
The harder the plastic the shinier the chocolate. Silicone are better for molding Ganache then for truffle making.
A.
No, the chocolate will contract if tempered properly and fall out when tapped.
A.
If stored properly: Milk up to 1 year and Dark up to 18 months.
A.
to be called a chocolate you need to have at least 32% cocoa content.
A.
Cacao is the plant and derivatives before processed and Cocoa is once it has already been processed.
A.
Remove chocolate stains by dabbing rubbing alcohol or dry-cleaning solution on the stain and blotting it dry with a paper towel or clean rag. If it's a really tough stain, try blotting it with a solution of: 1 teaspoon dishwashing liquid and 1 cup warm water, rinse and then use half cup of white vinegar and half a cup of warm water.