Sale!
Alunga 41% Milk Chocolate Bar
$6.20 with HST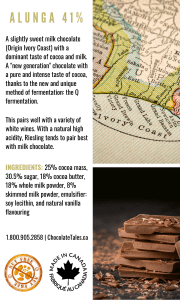 *Climate Control Packaging Included With Every Order*
A 50g chocolate bar with slightly sweet milk chocolate and a dominant taste of cocoa and milk. This new generation of chocolate with a pure and intense taste of cocoa is in part thanks to the new and unique method of fermentation: the Q fermentation. The Q technique enables the cacao farmers to create homogeneous and exceptional fermentation, yielding beans of exceptional quality close to zero-impurities of off-flavors and with intense pure natural cocoa taste.
Free Shipping for GTA & Hamilton. *Terms apply, Click Here for details
*See our COVID-19 Health & Prevention Policy*
Allergy Information: Peanut Free, Tree Nut Free, Sesame Free, Gluten Free, Egg Free, Kosher Ingredients, Vegan Options Available