Valentine's Day is right around the corner, and everyone has been going out to buy the best Valentine's Day gifts for their significant others. People usually pick out expensive jewellery, or beautiful flowers however, a timeless classic would be some gourmet chocolate. Chocolate has always been a staple when it comes to giving gifts, especially during Valentine's Day and for good reason. But why is chocolate such a popular gift on Valentine's Day? Today we'll let you in on the secret and provide you with a list of the best Valentine's Day gifts from our menu. Continue reading to learn more!
The History Of Valentine's Day
First off, let's discover the history of Valentine's Day. As most of you know Valentine's Day is usually celebrated on February 14. It's the day lovers express their love and affection for one another through gift exchanges and celebrations. Some say this holiday originated from a Roman festival named Lupercalia. Lupercalia was a pagan festival dedicated to Faunus, the Roman god of agriculture. It was to celebrate the coming of spring and fertility.
Another story suggests that Valentine's Day came to be because of Saint Valentine. Some say he was a priest who defied Emperor Claudius II. The emperor had forbidden young men from marrying because he had thought that single men made better soldiers. Even then, Saint Valentine performed marriages for young couples in secret until his actions were discovered by the emperor.
There are many stories relating to the history of Valentine's Day, so the origins are unclear. One thing is for certain, Valentine's Day didn't revolve around romance and love until the 14th century. Nowadays, people go out on elaborate dates, and buy each other gifts! It's a great reminder for those who forget that sometimes our loved ones deserve a little more attention and appreciation.
Why Is Chocolate One Of The Best Valentine's Day Gifts?
Now is the time to let everyone in on the secrets of chocolate. There are many reasons why chocolate makes one of the best Valentine's Day gifts. The most obvious reason being that most people enjoy the taste and texture of chocolate. Most chocolate contains sugar which itself, releases chemicals that are normally associated with reward and pleasure.
Another reason why chocolate is a more suitable gift for Valentine's Day is because it was considered to be an aphrodisiac by the Aztecs. Chocolate was said to have substances that ignited desire and encouraged feelings of romance. This led to the tradition of European royalty presenting a concoction of amber and chocolate to their significant other.
Besides chocolate having sugar or being an aphrodisiac, eating chocolate also promotes the production of happy chemicals such as endorphins, serotonin, and dopamine. All these neurotransmitters contribute to boosting your mood, decreasing stress and increasing pleasure. Another chemical called phenylethylalanine, amplifies feelings of attraction, nervousness and excitement which people commonly associate with as having "butterflies in the stomach" or the feeling of falling in love. Chocolate also has many health benefits too, including:
Lowering cholesterol levels
Improving cognitive functions
Reducing the risk of cardiovascular diseases
Promoting fetal growth and development
Boosting athletic performances
There are so many reasons and benefits to giving chocolate to your lover, it's no wonder why chocolate is so popular during Valentine's Day. So, without further ado let's talk about some of the best Valentine's Day gifts from our menu.
The Best Valentine's Day Gifts From Chocolate Tales
Because we want everyone to be able to enjoy our chocolates without any limitations, all the gifts listed below are peanut-free, tree nut-free, sesame-free, gluten-free, and egg-free made with only quality Kosher ingredients. Here's our list of the best chocolate gifts for Valentine's Day. Enjoy!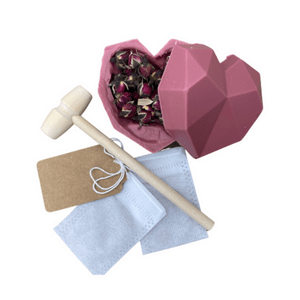 This Chocolate Heart & Rose Tea is a 2-in-1 handmade ruby chocolate heart filled with culinary rose petals. Break it apart with the wooden mallet and you'll get an explosion of romantic rose petals. After you're done eating the chocolate, use the rose petals to make you and your significant other a warm cup of rose petal tea. You'll receive one ruby chocolate heart, a wooden mallet, two cloth tea bags and instructions. Not only is this gift fun and surprising, but it will practically burst open into a night of romance.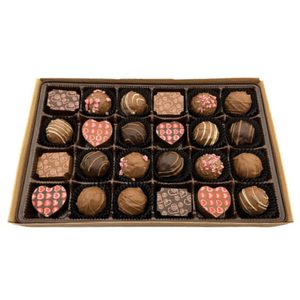 If your significant other likes lots of options, this 24 Piece Valentine's Collection chocolate box is the perfect gift. Get a combination of classic piped, hand-dipped, and print-designed truffles including a delectable ganache center. You'll receive a selection of dark chocolate, and milk chocolate with assorted flavours including rose, maple, raspberry and more. It's a memorable and sweet gift that'll definitely leave a lasting impression. Every time they open the box, they'll think of you!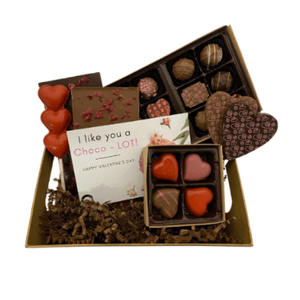 This gift basket is perfect for those looking to splurge a little more this year. This Valentine's Basket is practically filled to the brim with 4 pieces of Heart Chocolate Truffles, 1 Milk and Raspberry Chocolate Bar, 1 Dark and Raspberry Chocolate Bar, 12 pieces of Valentine's Truffle, 3 Heart Chocolate Lollipops and a Happy Valentine's card. This present will have everything you need to impress and express your love for that special someone.
Happy Valentine's Day — Chocolate Tales
Everyone at Chocolate Tales wishes you all a Happy Valentine's Day! Chocolate Tales uses only quality premium ingredients to create the smoothest and richest hand-crafted chocolates. Share the love by giving the gift of chocolate. If these options aren't what you're looking for, feel free to browse through our Valentine's selection for more. Chocolate Tales also offers free shipping to those who reside in the Greater Toronto Area and Hamilton. With plenty of time to spare, there's no excuse not to get your significant other a gift. Besides, we got something for everyone. Visit Chocolate Tales today to place your order!